Coriander
Coriandrum sativum
Family: UMBELLIFERAE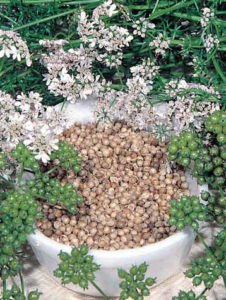 Annual herb with bright green leaves and pinkish white flowers. Hermafrodite, the flowers are in shortly-stalked umbels; scaled bloom, the slender and branched erect stems are 60 to 70 cm high.
The fruits (so-called seeds) are nearly globular, consisting of two halves, single-seeded mericarps,with a very aromatic taste; they are bright green, turning yellowish-brown when ripe.
Coriander plants are grown from seed.
Germination lasts year 4-5.
Direct sowing 10/20 kg./ha.
Depth of sowing cm.1-1,5.
Distance cm. row to row 30/35, plant to plant 8/10.
Sprouting time days 20.
.
.
AMERICAN LONG STANDING

Seed count: 1 g = 98 seeds
This variety is a tall standing type
plant, whichis slow in bolting.
Plants grow well in mild and
subtropical climates.
Young leaves and stems
haverelatively mild aroma,
good for salad and garnish uses.

MOROCCAN TYPE

Seed count: 1 g = 65 seeds
This variety has a high
seed-productivity and the
fruits are big.
This coriander type can be
also found as monogerm (split seeds).
DURATION OF GERMINATION (YEARS): 4
DAYS NEEDED TO GROW: N. 15-30
UE MINIMUM VALUES FOR SELLING: PURITY 96% - GERMINATION 80%
CULTIVATION METHODS
Direct sowing
Period: spring
Quantity of seeds kg./ha. 25/35
Depth of sowing cm. 1
Row to row distance cm. 35/40
Plant to plant distance cm. 10
EDIBLE PART: leaves and seeds.
HARVEST PERIOD: leaves at 40/50 days,seeds at 130/140 days.
PRODUCTION: leaves 20.000 kg./ha. - seeds 1500/2000 kg./ha.
PURPOSE: leaves as dressing in cooking,seeds as spices, food industries (sausages)distiller machines (essential oil), cosmetics (perfumes) industries dealing with liquors and vinegars.
You may also be interested in: